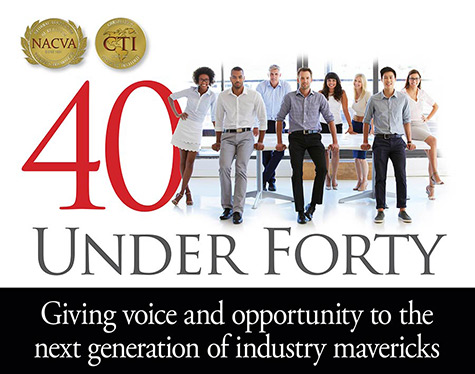 2017 Honorees
NACVA and the CTI are founded on excellence, superior quality, and the spirit of pioneering. We have a rich history of partnering with visionary leaders across all spectrums of the accounting and financial consulting professions regardless of affiliation with NACVA and the CTI. Simply put, we want the best of the best among our group of subject matter experts and leaders.

We are thrilled to recognize this list of professionals for their accomplishments to the profession and their communities and for their contributions yet to come.

Throughout the rest of 2017 and into 2018, you will get to know these rising stars through a series of press releases, profiles in The Value Examiner®, QuickRead Buzz Blog, NACVA's Association News, and through other communications.


Alex Kajan, Daytona Beach, FL

Alex Kajan joined Pinnacle as a director of business valuation in late 2015. Mr. Kajan has completed over 400 business valuations for transaction advisory, litigation, and compliance purposes over the past eight years. Prior to joining Pinnacle, Mr. Kajan was a senior manager of valuation services at Altegra Health, where he was primarily involved in the valuation of physician practices, ambulatory surgery centers, accountable care organizations, clinically integrated networks, and other healthcare entities.

He also spent time at Stahl Consulting Group, HealthCare Appraisers, and Sheldrick, McGehee & Kohler, LLC, where he gained important valuation experience related to compensation arrangements, healthcare entities, employee stock ownership plans, family limited partnerships, tax/estate planning, warrants, options, and other one-off derivative contracts.

Mr. Kajan earned his bachelor of science in finance with a concentration in equity and fixed income analysis from Stetson University. He has also completed the business valuation educational curriculum offered by the American Society of Appraisers and holds the Chartered Financial Analyst designation.

What would you consider to be the most important current issue facing the financial consulting profession?
As a specialist in healthcare consulting, it is difficult to pinpoint a single issue as being the most important given the derivative effects we are seeing from the industry-wide push to optimize the delivery of healthcare in this country. So, collectively, I would classify this paradigm shift in the healthcare delivery system as the most important issue facing the financial consulting profession for healthcare specialists. Outside of healthcare, I believe the push for uniform standards across credentialing organizations is a critical issue that needs to be resolved as it creates inefficiency and unnecessary complexity for both consultants and their clients.

What would you consider to be the major growth areas in the financial consulting profession?
As there is opportunity in complexity, I would identify specialization as a major growth area for a financial consultant. As there are many areas of specialization other than healthcare (e.g., financial reporting, portfolio valuation, industry specialization, etc.), I would consider any of these to be a growth area in the profession. Consulting firms who specialize find it very difficult to identify financial consulting professionals with the dual skillset of financial consulting and the firm's chosen area of specialization. I expect this trend to continue and create opportunity for those in this profession.

Anna K. Brewer, Fort Worth, TX

Anna K. Brewer has significant experience in the healthcare industry providing a number of services to healthcare providers. As director of Consulting Services, she leverages strong analytical and financial analysis skills in the areas of managed care analysis, negotiation support, valuations, due diligence, physician compensation, joint venture development, and strategic business plans. Her list of clients includes physician-owned hospitals, ambulatory surgery centers, community hospitals, multi-hospital systems, academic medical centers, and physician practices.

After graduating with a bachelor of business administration in accounting from TCU, Ms. Brewer joined Arthur Andersen as a consultant in the finance and economics group. Prior to joining JTaylor, she spent three years in the health sciences advisory services group at Ernst & Young.

What would you consider to be the most important current issue facing the financial consulting profession?
The most important issue facing our profession is our ability to attract and retain future practitioners. Our task is to provide opportunities for the next generation to learn the more advanced aspects of valuation theory. Our profession is reliant upon the implicit trust our clients and users of our opinions put in us. This trust requires knowledge sharing in our field and continued adherence to standards and ethics. I hope to invest in others, just as my mentors provided me countless opportunities.

What would you consider to be the major growth areas in the financial consulting profession?
As you might expect, I believe healthcare continues to be a major growth area for the financial consulting and valuation field. As healthcare reform continues to change the way transactions occur, the way businesses deploy capital, and how physicians and hospitals work together, there are numerous, complex, and rewarding opportunities for valuation professionals to make an impact on the industry. In particular, I am intrigued by the quantification of value around population health, outcomes, and quality.

B. Steven Purdy, Rockville, MD

B. Steven Purdy, CPA, ABV, is a highly experienced senior manager in Aronson's Financial Advisory Services Group with over 10 years of industry experience. He focuses his expertise on valuing privately owned businesses and delivering his independent qualified opinions on highly complex financial dispute matters that require articulate explanation in mediations, negotiations, and the courts of D.C., Maryland, and Virginia.

Typical matters in which Mr. Purdy has been engaged to advise on include: forensic accounting, business valuation, asset tracing, deal contingencies, income tax scenarios, alimony support scenarios, and review of opposing expert reports on any of these matters.

Prior to joining Aronson, Mr. Purdy spent over 10 years with both "Big 4" and regional accounting firms in which he specialized in income tax research, planning, and compliance for businesses and individuals. His client relationships have led to consulting opportunities in which he assisted clients grow their businesses in ways they could not do on their own

Bharat Kanodia, San Francisco, CA

Bharat Kanodia leads private equity and venture valuations, and helps valuation firms optimize their international operations. He has worked with Ipreo, American Appraisal, Veristrat, and Silicon Valley Bank Analytic, where he has valued real estate, industrial, personal property, and financial assets. Some unique assets valued by Mr. Kanodia include: the Golden Gate Bridge, NYC transportation system, Hartsfield Atlanta Airport, and various Las Vegas casinos. Mr. Kanodia has signed off on over 4000 valuation opinions with $900 billion in assets.

He holds an undergraduate degree in mechanical engineering from University of Wisconsin-Madison and a master of business administration from Marquette University. Mr. Kanodia is a senior accredited member with the American Society of Appraisers, lives in the San Francisco Bay area, enjoys sailing, horseback riding, and vedic architecture.

Boris Sobolev, Denver, CO

Boris Sobolev, CPA, CVA, CGMA, joined Cornerstone in 2005 and became a partner in 2010. His passion lies in working with small to medium-size businesses whether it is helping with accounting, consulting, tax compliance, or valuation. Much of his valuation and litigation practice focuses on family law, tracing of assets, due diligence, and valuation for gift and estate tax purposes.

Mr. Sobolev has testified in many district courts in Colorado. He has played a leading role in performing extensive forensic and tracing analyses as well as complex business valuations. This has earned him recognition among some of the leading attorneys in Colorado.

Mr. Sobolev graduated UCLA with honors with a major in economics and a minor in accounting in 2002. In 2003, he became one of the youngest individuals to pass all four parts of the CPA exam in the country. In 2005, he obtained a Certified Valuation Analyst designation, giving him a foundation in business valuation, litigation support, and forensic analysis.

Mr. Sobolev moved to the United States from Russia with his family in 1994. He and his wife, Margarita, enjoy spending time outdoors and travelling with their two young sons. In the past, he co-founded the Resource Stock Guide website and continues to be an active investor today.

Brent Glova, San Diego, CA

Brent M. Glova, CVA, is a valuation director at Vantage Point Advisors, Inc., and conducts business valuation work for acquisition, divesture, financial reporting, and tax compliance purposes. He is the youngest employee to reach director in the firm's history.

In 2016, Mr. Glova served over sixty different clients in a wide spectrum of industries spanning the gamut of valuation service verticals. He is particularly focused on fair value and M&A valuation in the life science, industrials, and technology sectors given his home regional market. In the past year, Mr. Glova also secured important relationships with two national accounting firms, a predominant state pension fund, as well as a west coast venture bank, and was added to each group's approved valuation expert list. In addition to client responsibilities, Mr. Glova leads sustainable company growth initiatives for his firm; including training, recruiting, and valuation best practices. He is tasked with leading the firm's on-campus recruiting efforts and is consistently adding top-tier talent to the Vantage Point Advisors team from Berkeley, USC, and local San Diego universities.

He is an employer mentor with the University of San Diego's MBA Mentorship Program. He has also been an evaluator for numerous ACG Cups, judging local MBA students in strategic valuation case work. From an industry presence standpoint, Mr. Glova is very active in San Diego Venture Group (SDVG), Association for Corporate Growth (ACG), and a San Diego based up-start business network called Synergy Group, of which he is a co-founder. He is also a member of NACVA's Writers Guild.

What would you consider to be the most important current issue facing the financial consulting profession?
On the west coast in particular, where a large percentage of private company valuation clients are venture-backed, the commoditization and off-shoring of private company stock valuations (409A) has caused dramatic pricing pressure in that specific valuation vertical. That in isolation is, of course, a problem but well-rounded valuation firms should be able to overcome this issue through an already in-place diversification of services. However, we are witnessing a trickle effect where reduced pricing expectations for 409A work is impacting client's fee appetite in other more complex and riskier (to the advisory firm) valuation service lines such as buy-outs, divorces, litigation, and M&A advisory valuation.

What would you consider to be the major growth areas in the financial consulting profession?
With the plethora of Baby Boomers seeking to transition into retirement in the next five-plus years, there will be tremendous demand for exit planning services. Firms that are able to offer these privately held business owners an up-front diagnostic valuation and then growth and exit advisory services over the sale ramp-up period will be well positioned as true market leaders and experts in our industry.

Brian M. Karpf, Ft. Lauderdale, FL

Brian Karpf graduated cum laude from the University of Florida with a bachelor of science degree in 2004 where he was president of his college fraternity. He received his juris doctor from Florida International University in 2007. He was also distinguished by the CALI Excellence for Future Award in Intellectual Property law, a recognition given to the student with the top grade in the course.

At age 35, Mr. Karpf was AV rated by Martindale-Hubbell and was named by Super Lawyers as a Rising Star for 2013–2014, 2014, and 2015–2016. No more than 2.5% of lawyers under 40 years old receive this honor. He is a partner at Young, Berman, Karpf & Gonzalez, PA. He was recently named one of the top 40 lawyers under 40 in Miami by the Cystic Fibrosis Foundation. Mr. Karpf was appointed by the president of The Florida Bar to serve on the Family Law Rules Committee. He was also selected as a Fellow in Class II of the Florida Bar's Leadership Academy and was recently elected to the Board of Governors of the Florida Bar's Young Lawyers Division.

Mr. Karpf is active on a national level, having served on the ABA Family Law Section's Executive Council since 2010 and chaired numerous Bar Committees. He has published family law articles and lectured on a variety of topics. Mr. Karpf enjoys a substantial legal practice with many celebrated clients of renown.

Briana Clark, Indianapolis, IN

Briana Clark is a partner at Bingham Greenebaum Doll LLP and co-chair of the firm's Business Litigation Practice Group. She is dedicated to her practice as well as her community, making her an ideal candidate for NACVA's Forty Under 40. Her multiple board positions, firm responsibilities, and accolades are a testament to her legal expertise, leadership skills, and community involvement.

Ms. Clark is a Distinguished Fellow of the Indianapolis Bar Foundation and a member of the Indianapolis Bar Foundation's Bar Leader Series Class IX. She also received recognition for pro bono service by the U.S. District Court for the Southern District of Indiana. Her extensive litigation experience has been repeatedly acknowledged by her peers, as she has been named to the Indiana Super Lawyers Rising Stars list for six consecutive years. She is a member of the Indianapolis Bar Foundation's Board of Directors and chairs the Evening Under the Stars Dinner/Silent Auction Committee, the IBF's largest fundraiser.

Outside of the office, Ms. Clark is a multi-time national champion in cycling and continues to race competitively at an elite level as a member of the First Internet Bank Elite Cycling Team. In 2016, she secured a victory with a first place finish in the Mass Ave. Criterium Race, following her commanding win in the Indy Criterium Race in July. In addition, she served for three years in leadership roles within BGD's partnership with Street Law and three years as a member of the Defense Trial Counsel of Indiana, Business Litigation Section Executive Committee.

Brooke Pierce, Hattiesburg, MS

Brooke Pierce has over 10 years of experience in consulting and healthcare valuation services provided to health systems, providers, and legal counsel. Her depth of knowledge expands from certifications in healthcare machinery and equipment appraisal to specialization in physician compensation and in business valuations of medical practices, hospitals, ambulatory surgery centers, and diagnostic centers. Ms. Pierce consults on a nationwide basis for contractual healthcare arrangements and, since 2016, has provided specialized training to hospitals and providers in preparation of the Medicare Access and Chip Reauthorization Act of 2015 (MACRA). She has also provided web-based training for BVR participants in "Valuing Timeshares and Unique Provider-Based Arrangements in Healthcare" and contributes regularly to HORNE LLP's healthcare and valuation blogs to serve ongoing client education resources.

Charleen Eckard, Clearwater, FL

Charleen Eckard is a principal at Perzel & Eckard Forensic CPA's, LLC, located in Clearwater, FL. The firm has over 30 years of experience in litigation matters such as marital dissolution, personal injury, business disputes, and fraud investigations. In addition, the firm assists clients with business planning, business valuation, as well as estate planning and probate.

Ms. Eckard has lived and worked in Tampa Bay for over 30 years. She holds a bachelor degree in finance and a bachelor degree in accounting from the University of South Florida. Ms. Eckard is a licensed Certified Public Accountant (CPA), Certified Valuation Analyst (CVA), and is trained as a collaborative financial neutral. She is a member of the American Institute of Certified Public Accountants (AICPA), the National Association of Certified Valuation Analysts (NACVA), and NextGen Divorce. She is also currently serving on the Florida Bar's Sixth Circuit Grievance Committee.

She personally has over 13 years of experience in the legal industry. She loves the intricacies of complex litigation and the challenge of not only deciphering and understanding financial information, but more importantly, being able to explain it in easily understandable terms.

Ms. Eckard is available to serve as an expert witness/consultant for both criminal and civil matters in state and federal courts.

What would you consider to be the most important current issue facing the financial consulting profession?
I believe the most important issue facing the financial consulting profession, and specifically forensic accounting/expert witness testimony, is the need for us as practitioners to maintain the highest level of ethical standards. To never let our judgement be shaded by a specific outcome that an attorney or client desires and to consistently rely on sufficient and appropriate data and appropriate and acceptable methods.

What would you consider to be the major growth areas in the financial consulting profession?
A major area of growth in the financial consulting profession, specifically in forensic accounting, is the need for collaboratively trained financial neutrals to assist attorneys and client in collaborative divorce cases. Additionally, I foresee other areas of litigation, such as business disputes and business divorces, moving to collaborative approach as well.

Christopher Majdi, Torrance, CA

Christopher Majdi is an experienced healthcare valuator and merger and acquisition advisor. He has completed numerous valuation and transaction engagements nationwide involving: medical groups, hospital facilities, risk-bearing entities, and intangible assets. Mr. Majdi is a certified valuation analyst (CVA), certified business appraiser (CBA), and certified healthcare business consultant (CHBC). He holds a master of science degree in healthcare administration from California State University, Long Beach, where he is an executive faculty member providing instruction in Healthcare Financial Management.

Corey Vanderpoel, Milwaukee, WI

Corey Vanderpoel brings more than 15 years of experience as a FINRA registered investment banker who has led more than 100 M&A transactions.

Mr. Vanderpoel joined Schenck M&A Solutions as managing director in 2013 after beginning his investment banking career at Mertz Associates, Inc. and rising to a principal in the firm. Schenck M&A Solutions is a boutique investment banking practice operating within a regional accounting and business consulting firm with locations throughout Wisconsin. This combination of dedicated investment banking resources with deep internal tax and financial knowledge provides clients a comprehensive and seamless experience. Over the last two years, the team completed 21 transactions for nearly $500 million. Schenck M&A Solutions advises clients on company sales and recapitalizations, acquisitions, and specialty financing projects.

An engaging speaker who shares his knowledge with the greater community, Mr. Vanderpoel has presented at numerous industry events. He is a member of the Association for Corporate Growth, a board member for the University of Wisconsin-Oshkosh Alumni Association, and former treasurer for HOPE Network for Single Mothers. He holds a BBA in finance/MIS from the University of Wisconsin-Oshkosh, and an MBA from Marquette University.

Mr. Vanderpoel previously received the UW-Oshkosh Outstanding Young Alumni Award. He takes great pride in the unique level of detail and service his team provides to its clients, many of whom are going through the largest transaction of their life and looking for advisors they can trust and rely on to handle all facets of complex M&A transactions.

What would you consider to be the most important current issue facing the financial consulting profession?
Anyone can call themselves a consultant, and for that reason, I feel a drastically important issue in the profession is for there to be a greater awareness of credentials, experience, and reputation in the industry. Through certification associations, regulatory authorities, and personal experience, an appropriate knowledge base is developed to provide clients proper advice based on principles, methodologies, and practice. Associations such as NACVA, regulatory authorities such as FINRA, testimonials, and professional sites such as LinkedIn, among other mediums, assist clients to understand the credentials of consultants, and I presume the use of these will continue to grow and develop to protect the awareness and interests of clients. Further, this issue is likely to accelerate, specifically in the M&A segment, as increased deal activity draws in new entrants to the profession.

What would you consider to be the major growth areas in the financial consulting profession?
Specifically, in my segment, M&A, the industry has been robust for a few years and I feel this could continue based on dynamics such as population demographics, business objectives to expand through acquisition (e.g., revenues, capabilities, geographies, etc.), low interest rates (and available credit facilities), and raised equity funds looking to be deployed. With so much capital to be put to work, and short of any notable widespread geo-political or economic disruptions, I would expect continued growth of M&A activity. Within the M&A market, we are seeing strong interests from acquirers in companies with evidence of sustainability, which could include: recurring revenue, brand recognition, strong management teams, quantifiable backlogs and pipelines, or serving end-markets that have such characteristics.

Danene Spaeth, Seattle, WA

Danene Spaeth is a Manager with Strategic Value Group, LLC, an independent financial advisory firm with offices in Los Angeles, Seattle, and Dallas. Ms. Spaeth has over 10 years of valuation and healthcare industry experience assisting clients with mergers, acquisitions, divestitures, joint ventures, tax planning, corporate reorganizations, and financial reporting. She has experience with complex, multi-disciplinary valuation assignments, including: the valuation of tangible and intangible assets, physician compensation and management services arrangements, as well as purchase price allocations, commercial reasonableness assessments, and fairness opinions.

Prior to joining Strategic Value Group, LLC, Ms. Spaeth served as the chief financial officer for a physician-owned medical practice with over 40 providers and seven outpatient clinic locations. She has also acted as a revenue valuation analyst for a publicly traded dialysis provider.

Ms. Spaeth earned her bachelor degree in business administration, with a concentration in accounting, from the University of Washington. She is a licensed Certified Public Accountant (CPA) in Washington, Accredited in Business Valuation (ABV), and a Certified Valuation Analyst (CVA). Recently, Ms. Spaeth was selected to participate in the Hospitals and Health Systems Practice Group Leadership Development Program for the American Health Lawyers Association (AHLA).

What would you consider to be the most important current issue facing the financial consulting profession?
Within the healthcare industry, transactions are getting increasingly more complex, compensation models are evolving to meet the demands of the industry, and hospitals, physician practices, insurance companies, and other providers are facing uncertainty regarding future reimbursement and coverage. As a result, management of these organizations need financial consulting professionals to assist them in navigating this period of change. The challenge for those of us in the profession is how to stay abreast of these changes and trends and understand how these changing dynamics impact our clients. This growing complexity, which is not limited to only the healthcare industry, is creating a trend toward specialization within the financial consulting profession. It is becoming increasingly difficult, and potentially risky, for consultants to dabble in a wide-range of industries and be able to stay current on the valuation nuances and regulatory requirements that may exist within each industry. In response, some firms and consultants are choosing to narrow their scope of service and develop deep competency in a particular industry. While initially this may appear to limit a consultant's client prospects, it ultimately creates a great opportunity to cultivate strong relationships with clients and move beyond simply being a "service provider" into a role of trusted advisor.

Within our firm, we place tremendous time and resources toward research and education in our chosen industries. We are constantly reviewing and refining our work processes to ensure we remain compliant with regulatory changes and applicable caselaw, as well as looking ahead to identify prospective trends. This focused expertise creates a true value-added service to our clients, allowing for enhanced efficiency, technical competency, and the ability to help our clients understand and navigate the complexities of their transactions.

What would you consider to be the major growth areas in the financial consulting profession?
The intersection of software and technology solutions and financial consulting presents a unique growth area for the financial consulting profession. Society's demand for instant access, as demonstrated by the rise in live-stream news reporting, same-day shipping, and the explosion of social media, is creating a growing demand on businesses for real-time financial data.

Traditional month-end close cycles are getting tighter and tighter, creating a need for greater efficiency and automation. Businesses are actively seeking solutions that will enable them to prepare and compile financial information, analyze and diagnose operational opportunities, and strategize and project future performance. A simple Google search will reveal dozens of products and applications aimed at providing businesses and consumers with real-time insight into financial trends.

While firms and consultants have often made use of software, applications, or other workflow solutions to improve their own internal efficiencies, consulting professionals should also be aware of the various technology-based tools being utilized in the industries they serve and be prepared to offer recommendations for possible technology solutions for their clients and, in some cases, assist in the operational implementation of these products. Additionally, for those firms with the resources to do so, there is a definite opportunity to develop their own software as a service (SaaS) or other technology-based workflow solutions that can be marketed and utilized by their clients, thus creating a value-added service and a competitive advantage in the market.

Erick Vedasto

Erick Vedasto is the consummate valuation professional—he is a steward of numbers, a sound advisor, and perspicuous teacher.

Through rigorous study and perseverance, Mr. Vedasto has a technical and theoretical understanding of valuation that challenges corporate executives 20 years his senior. He took various steps to get to this level—he was the best student of Finance at the University of Dar Es Salaam in Tanzania, he stood out at Brandeis University in the United States, and made his mark on the greater finance community as a finalist at the Boston Security Analysts Society Investment Research Challenge, and by earning the Charted Financial Analyst designation.

Mr. Vedasto's prowess led a professor to recommend him to American Tower Corporation, a wireless infrastructure company expanding its international presence beyond Mexico, Brazil, and India. He developed the valuation models for the business development teams to expand and grow. Since Mr. Vedasto has joined, 10 other markets have opened and he had a hand in the modeling of the majority of the acquisitions.

Mr. Vedasto is promoting the field to the next generation. He has taken colleagues under his wing to develop their expertise and shared enthusiasm for the practice. He believes understanding valuation and making sound investments can change the world for individuals and countries. Mr. Vedasto has done so with his work at American Tower; and will continue to do so, especially given his goal of starting a valuation school in Tanzania.

What would you consider to be the most important current issue facing the financial consulting profession?
I think trust (or lack thereof) remains one of the key issues facing the financial consulting profession, although it is by no means specific to that segment of the broader finance/investment industry. In my opinion, following the financial crisis and in light of issues surrounding the crisis (e.g., the perceived causes, the devastating effects, and the general perception of the distribution of "pain" therefrom), the finance/investment industry as a whole, and the financial consulting profession as a part thereof, lost the trust of the general public in terms of the profession's ability to soundly fulfill the role for which it was intended—deligently upholding its fiduciary responsibility in rendering services.

What would you consider to be the major growth areas in the financial consulting profession?
I think retirement planning/financing is potentially a major growth area for the profession. As the responsibility to provide for retirement security increasingly shifts to the private sector (and the ability to seccessfully achieve the same continues to elude many), professionals and individuals alike, demands for professional expertise to address this challenge is likely to grow.

Hafiz Imtiaz Ahmad, Abu Dhabi, NY

Hafiz Imtiaz Ahmad, MBA, MS (Plus), PhD, CVA, MAFF, is serving as assistant professor and director of professional enrichment at the New York Institute of Technology, Abu Dhabi Campus. He received his PhD from the University of Lille, Lille, North of France in 2011 with the specialization in finance. He graduated with a "mention très honorable avec félicitations unanimes du jury". His domain of research includes equity valuation, specifically residual income and abnormal earnings in the context of emerging markets. Noted contributions to the academic community for the research in this area have resulted in publications in competitive journals (e.g., Compatbilité-Control-Audit in France and The Value Examiner in the U.S.). Dr. Imtiaz also served as a last assistant editor for book reviews for the Institute of Business Appraiser's quarterly journal Business Appraisal Practice™.

What would you consider to be the most important current issue facing the financial consulting profession?
The most important current issues facing the financial consulting profession is artificial intelligence (AI) and technologies that came with big data.

What would you consider to be the major growth areas in the financial consulting profession?
In my humble view, the major growth areas in the financial consulting profession will remain valuation. Especially keeping in view the shortage of appraisers as cited by Federal Reserve Bank of Philadelphia in one of their recent guidance statements (https://www.federalreserve.gov/supervisionreg/srletters/sr1704.htm).

Hillary L. Hughes, Cedar Rapids, IA

Hillary Hughes is a trusted advisor on ownership transition. She provides strategic insights to assist business owners and board of directors to address long term ownership transition goals by structuring transactions and valuation related to Employee Stock Ownership Plans (ESOPs) on behalf of ESOP trustees as well as business owners. Her clients range from small family owned businesses to large multi-national conglomerates, specializing in the valuation of businesses and business interests for purposes of mergers and acquisitions, ESOPs, gift and estate planning, and strategic planning.

As the director of Prairie's Cedar Rapids office, she provides mentorship and guidance to her team and is a recognized leader to her peers. Her success is largely attributed to her enthusiasm and passion for providing value to her colleagues, clients, and partners. Since joining Prairie in 2012, Ms. Hughes has made significant contributions to the company's strategic success by continually looking for ways to improve productivity and expand Prairie's brand in the midwest region, while also creating successful business opportunities in the Cedar Rapids community.

Ms. Hughes is a regular speaker at conferences across the country leading numerous technical seminars and webinars on valuation, ESOPs, and ownership transition planning. She is a member of the ESOP Association serving on the Valuation Advisory Committee, and is the Iowa/Nebraska Chapter President. Hillary is active in her community as president of the Linn County Conservation Board. She is also a board member for two private companies. Ms. Hughes is also a proud mom of her two young kids.

Jake Morris, Chicago, IL

Jake Morris is a managing director with Navigant. A founding partner of McKinnis Consulting Services, which was acquired by Navigant in 2016. Mr. Morris is responsible for Navigant's Revenue Cycle Practice's go-to market strategy and sales management. In addition, he has responsibility for client relationship management and project delivery quality.

Over the course of his career, Mr. Morris has led revenue cycle engagements encompassing all points in the revenue cycle at numerous academic medical centers, multi-facility health systems, and community hospitals. He is a recognized expert in revenue cycle transformation engagements and next-generation HIS implementations. Jake has assisted clients in various phases of revenue cycle strategy roll out, including: net revenue/cost reduction realization, HIS system selection, pre-conversion revenue cycle risk mitigation, and post-conversion optimization and ROI realization.

Mr. Morris leverages his deep knowledge of HIS technology and best-practice revenue cycle processes to assist clients with consolidation, standardization, and optimization of their revenue cycle functions.

James McHugh, Chicago, IL

James McHugh is the revenue cycle business unit leader and managing director at Navigant Consulting, Inc. He is responsible for setting the overall strategic vision of the business unit and overseeing business unit operations. In addition, he has overall responsibility for client relationship management and ensuring project delivery quality.

He was a founding partner of McKinnis Consulting Service in 2009, which was acquired by Navigant in December 2015. During his tenure at McKinnis, he built and grew the firm from three founding partners to 75 full-time consultants and over $25M in revenue.

Over the course of his career, Mr. McHugh has led numerous client engagements focused on leveraging next-generation Electronic Health Record (EHR) technology to support best-practice revenue cycle operations at academic medical centers, multi-facility health systems, and community hospitals. Previous engagements have focused on Epic Systems and Cerner EHR implementations, optimization of patient access processes, and redesigning processes over all facets of the revenue cycle. Separately, he possesses deep knowledge of revenue cycle operations where he has also served as an interim revenue cycle leader.

Mr. McHugh received his BBA in finance and economics from Loyola University Chicago, and his MBA in healthcare administration at the University of Colorado. His local philanthropic activities have focused on Misericordia, Midtown Education Foundation, Namaste Charter School, and Lincoln Park Community Shelter. Internationally, he supports Sociedad Amigos de los Niños in Honduras, which offers housing and care for orphaned, abandoned, and/or abused children.

Jason Woon, Seattle, WA

Jason Woon, CPA, ABV, is a senior manager in KPMG LLP's valuation practice in Seattle. Mr. Woon values businesses, intangible assets, complex financial instruments, and fixed income securities for financial reporting, tax, and transactional purposes. He is a member of a KPMG LLP's national complex securities valuation practice and focuses his time with banking/financial services, technology/media/telecom, retail, and mid-market clients.

Mr. Woon was selected as one of the inaugural Standing Ovation Award winners by the AICPA, recognizing young CPAs who exhibit exemplary professional achievement in forensic and valuation services. He received his BA (finance/accounting) from the University of Washington's Foster School of Business and is currently an executive MBA candidate at the University of Michigan.

What would you consider to be the most important current issue facing the financial consulting profession?
The most important current issue facing the financial consulting profession is the continued commoditization of valuation services. Online calculators, freely available templates, the proliferation of training, and evolving tax/accounting rules have standardized many of the traditional valuation service offerings from the past 10 to 15 years.

What would you consider to be the major growth areas in the financial consulting profession?
The major growth areas in the financial consulting profession include the valuation of complex financial instruments, model validation and review, and forecasting/financial planning and analysis consulting. As traditional business and intangible asset valuations have become commoditized, appraisers must position themselves to tackle specialty valuation services, such as hard-to-value assets, and expand related skill sets to assist with management decision making. These are higher value-added services that are bespoke to each engagement.

Jessica Landay, Lakewood, CO

Jessica Landay, ASA, CVA, is a manager of business valuation and litigation support services at Seigneur Gustafson, where her primary focus is on complex business and intellectual appraisal matters and related litigation services. She has also been involved in a number of economic damages assessments and financial forensics matters. Ms. Landay has earned her Accredited Senior Appraiser in Business Valuation designation from the American Society of Appraisers, as well as her Certified Valuation Analyst designation from NACVA.

She has contributed to the education of BV professionals through writing articles published by BVR and she also co-presented a seminar on the Income Approach at the 2016 AICPA National Forensic and Valuation Services Conference in Nashville, TN. She enjoys being involved in BV education and plans to continue educating BV professionals through writing and presentations. Ms. Landay continually stays up-to-date on the latest in business valuation theory and practice through reading and CPE courses presented by industry professionals, as well as supervising and educating less experienced staff members at Seigneur Gustafson. She strives to ensure that Seigneur Gustafson produces only top quality, supportable opinions and reports.

Ms. Landay completed the AICPA Expert Witness Workshop in 2016 and has been very involved in the research and analysis required for opinions on discounts associated with estate and gift tax valuations. She is currently working on a chapter for the 2nd edition of Reasonable Compensation: Application and Analysis for Appraisal, Tax, and Management published by Business Valuation Resources.

Joshua Vannetti, San Diego, CA

Joshua Vannetti is currently a manager specializing in litigation support and valuation analysis at Vantage Point Advisors, Inc. in San Diego, California. In his first seven years in the industry, Mr. Vannetti has demonstrated his desire to be a leader among his peer group in valuation and litigation support. Beginning his career as a forensic accounting intern, Mr. Vannetti was subsequently hired as a staff accountant upon his graduation from SDSU. Since that time, Mr. Vannetti has performed damage calculations for disputes involving breach of contract, business interruption, employee dishonesty, and similar matters of economic loss spanning industries such as: entertainment, food and beverage processing, gaming, hospitality and tourism, professional services, restaurant, and retail. Mr. Vannetti has also conducted valuation work for financial reporting, ESOPs, buy-sell, estate and gift tax, and management planning purposes.

Mr. Vannetti has earned his CPA as well as CVA designation. In addition, he has also been designated as an expert witness on numerous matters and testified at arbitration. Mr. Vannetti has presented to members of the insurance and legal communities on business valuation, damage quantification, fundraising, litigation support, and understanding financial statements. Outside of the office, he has volunteered to teach financial literacy topics to local students with members of the finance and accounting community in addition to holding an officer position with the local chapter of a national non-profit organization. Mr. Vannetti is also involved with the local chapter of Association for Corporate Growth (ACG), San Diego Venture Group, and ProVisors of San Diego.

Justin Boyd, Charlotte, NC

Justin Boyd is a Certified Financial Analyst (CFA) Charterholder and Accredited Senior Appraiser (ASA) who provides business valuation and litigation consulting services to clients throughout the southeast. He performs valuations under the fair value concepts used for financial reporting purposes for public companies, closely held businesses, business interests, and intangible assets. Mr. Boyd performs most, if not all, external complex financial modeling, option pricing, derivatives, and Monte Carlo valuation engagements.

Mr. Boyd is the Charlotte market leader for the valuation practice of Elliott Davis Decosimo, a top 30 U.S. accounting firm, and is a firm-wide resource for financial reporting issues pertaining to complex valuation issues. He also leads the firm-wide International Tax Transfer Pricing Services Practice. Since joining Elliott Davis Decosimo in 2011, he has led or sourced hundreds of transactions/deals totaling in billions of dollars in deal activity and total assets/equity acquired. From being the sole business valuation professional in Charlotte, he has grown the valuation practice to be the second largest by headcount in the Charlotte office. The analyst team comprises of the following designations/candidates (all under 30 years old): CFA, Level II CFA Candidate, Level III CFA Candidate, CPA, ABV.

Mr. Boyd's clients include, but are not limited to: public SEC filers (3D Systems, Greystar Properties), private equity firms (Ares, Appolo), international public companies (confidential), start-up/venture capital backed companies and board members (FinTech/Healthcare), as well as prominent Charlotte-based, large privately held companies.

Not limited to work activities, Mr. Boyd serves on boards of directors spearheading efforts to benefit children and education in Charlotte. His passion for education and mentoring has led him to spend time in the classroom himself as a guest lecturer at the University of South Carolina's Darla Moore School of Business.

Kelly Kennedy, Sewickley, PA

Kelly Kennedy left a budding career in retail to enter the financial services industry as she felt she could better help others in doing so. She is in her seventh year in the industry and has already been awarded the Transition Planner of the Year for the Pittsburgh region by her broker dealer, serves on Lincoln Financials WISE Board within her broker dealer, has been published in industry journals, and asked to speak at industry events. Additionally, she is slated to speak in Philadelphia this summer to shed light on what it is like to be an advisor to her broker dealer's back office nationwide.

Due to her high level of competence in the industry and her powerful networking abilities, her firm has dramatically increased their multi-generational client relationships resulting in a dramatic increase of millennials to the practice. Thanks to Ms. Kennedy's efforts with the next generation of their current client base, the stage is now set for a new era within her firm to continue to be able to "Serve First, Last, and Always", which is the firm's core motto.

What would you consider to be the most important current issue facing the financial consulting profession?
The public's perception and full understanding of the fiduciary standard and the professional relationship that a growing client deserves.

What would you consider to be the major growth areas in the financial consulting profession?
Due to the tremendous transfer of wealth that will occur in the next few decades, there is a huge opportunity to initiate relationships with millennials, both as new clients and as children of existing clients.

Margaret Christensen, Indianapolis, IN

Meg Christensen, a partner at Bingham Greenebaum Doll LLP, is dedicated to her law practice and community. In under a decade, she has already proven herself to be knowledgeable in her field. Ms. Christensen has discussed many aspects of litigation in multiple columns and as a featured speaker in front of local, state-wide, and national CLE and conference audiences. In 2015, Ms. Christensen was one of two Indianapolis attorneys elected to the firm's partnership following nearly eight years of demonstrated firm and community leadership.

She continues to be on the cutting edge of her practice area, and her ability to strategically approach a variety of issues toward resolution and mitigate risk makes her a strong client advocate. Her extensive litigation experience has been repeatedly recognized by her peers, as she has been named to the Indiana Super Lawyers Rising Stars list for six consecutive years and was recognized as an Indiana Lawyer Leadership in Law "Up and Coming Lawyer" in 2012.

Ms. Christensen's involvement in the community has encouraged countless others into action. She formerly chaired the Trusted Mentors Board and served on the Indianapolis Public Schools' budget committee. Ms. Christensen is an active member of the Indianapolis Bar Association and is involved with several community and political organizations, including College Mentors for Kids and Girls Inc.

What would you consider to be the most important current issue facing the financial consulting profession?
In the current political landscape, the uncertainty of existing and proposed industry regulations poses a significant issue in valuing a business. As a litigation attorney, I find that the dispute between one business valuation and another comes down to industry trends arising from increased or decreased regulation. Extreme shifts in an industry's regulatory landscape make it more difficult to agree on a business's expected performance while relying on historical data.

What would you consider to be the major growth areas in the financial consulting profession?
Many industries are experiencing significant consolidation due to the operations costs imposed by increased regulation (e.g., consumer lending) or to relaxed control over concentration within industries. Thus, there is a growing need to value businesses for potential mergers, acquisitions, and other combinations. As a litigator, I have observed that many deals can be saved and disputes can be avoided by agreeing to a valuation methodology at the outset of any potential transaction.

Melissa Katz, Miami, FL

Melissa Katz is a driven and highly motivated bilingual young professional that has demonstrated tremendous professional growth and leadership skills during her short career as a Certified Public Accountant and a Certified Valuation Analyst. Her problem-solving skills allow her to think outside the box when presented with challenging assignments. Ms. Katz is extremely detailed oriented and has diverse and advanced ESI skills which allow her to develop and utilize advanced valuation models. She has expertise in producing reports for gift tax, business divorces, commercial litigation, and bankruptcy matters.

Ms. Katz regularly volunteers to provide in-house CPE training for our staff and is involved with numerous professional and charitable organizations including Legal Services of Greater Miami and the International Woman's Insolvency and Restructuring Confederation. She has also been involved in Toastmasters International to promote her speaking and presentation skills. Her accomplishments include receiving a full tuition scholarship for academic achievement while at the University of Miami (where she was also in the top 10% of her class), a national merit scholar, and a member of the President's Honor Roll.

Michael Balistreri, New York, NY

Michael Balistreri is a principal and founding member of the North America Debt Finance & Restructuring Group at Canaccord Genuity Inc., a global investment banking firm providing transaction advisory, capital markets, and equity research services. With over 11 years of investment banking experience, Mr. Balistreri specializes in complex advisory assignments, including financial restructurings, recapitalizations, mergers and acquisitions, and financings for public and private companies across all industry lines. Since his group's inception, Mr. Balistreri has helped grow Canaccord Genuity's Debt Finance & Restructuring practice into one of the core service offerings within the firm's investment banking platform.

Through his company-side advisory work on the recent sales and reorganizations of Halt Medical, Dakota Plains Holdings, SynCardia Systems, American Eagle Energy, Santa Fe Gold, Response Genetics, Hipcricket, and PhotoMedex, Mr. Balistreri has consistently proven his ability to maximize value for his clients and their constituencies under very difficult circumstances. He is also a member of his firm's Fairness Opinion Review Committee, which is responsible for approving all fairness opinions rendered by the firm's U.S. investment banking division.

Mr. Balistreri has made it a personal mission to leverage his expertise to improve the living conditions of the most vulnerable members of his community. He serves on the board of directors of the Institute for Community Living, an award-winning 501(c)(3) organization that provides integrated housing and healthcare for over 10,000 people annually in New York City. Mr. Balistreri holds the positions of treasurer and chairman of the Finance and Investment Committee.

What would you consider to be the most important current issue facing the financial consulting profession?
There are other industries vying for top talent which is putting significant pressure on firms' ability to attract and retain quality personnel.

What would you consider to be the major growth areas in the financial consulting profession?
The proliferation of technology-based solutions and tools will enable firms to streamline their business models, significantly reduce overhead, and more efficiently utilize their human capital.

Michael Cheng, Norwalk, CT

Michael Cheng joined the staff of the Financial Accounting Standards Board (FASB) in 2012. Mr. Cheng serves as the Private Company Council (PCC) coordinator where he is responsible for all PCC related matters. He also leads the board's private company decision making framework project focused on determining whether and in what circumstances it is appropriate to adjust financial reporting requirements for private companies following Generally Accepted Accounting Principles (GAAP). Currently, he is leading a project to help the board decide its future agenda.

Prior to joining the FASB, Mr. Cheng held various management positions with PricewaterhouseCoopers (PwC). Most recently, he was an Audit Senior Manager—Private Company Services in the firm's Stamford, Connecticut office. From 2003–2011, he also held roles of increasing responsibility in PwC's Core Assurance divisions in Buffalo and Rochester, New York.

Mr. Cheng earned his bachelor of science degree in accounting with a concentration in finance from Binghamton University in Binghamton, New York.

Michael McGinley, Atlanta, GA

Michael McGinley is a director and shareholder at Prairie Capital Advisors, Inc. He specializes in ownership transition financial advisory services, including: Employee Stock Ownership Plans (ESOPs), mergers and acquisitions, capital raising, and valuation of businesses and business interests for gift and estate tax planning, strategic planning, financial accounting and reporting, buy-sell agreements, and dispute resolution.

He holds the Certified Valuation Analyst credential from NACVA and the Accredited Senior Appraiser credential from the American Society of Appraisers. He is actively involved in the ESOP Association, serving on the Valuation Advisory Committee. He holds a bachelor degree from Georgia Tech and a master in business administration from Georgia State's Robinson College of Business.

Mr. McGinley joined Prairie in 2012 to establish and manage the Atlanta office. He has since developed and expanded Prairie's presence in the Atlanta market—growing the office to seven full-time staff. The office performs approximately 100 business valuations per year and approximately 12 transactions.

His integrity and passion for the work he does is recognized by his peers, colleagues, clients, and partners he works alongside. He is a mentor to incoming talent as well as to industry partners and prospects of Prairie, having led numerous technical seminars and webinars on ownership transition, corporate governance, ESOP sustainability, and valuation topics.

Mr. McGinley is a director for the GoGreenhill Foundation, a nonprofit dedicated to raising money for those with spinal injuries, and serves on the alumni board of The Walker School, a college preparatory independent school in Marietta, GA.

Michael Mensch, Melbourne, FL

Michael Mensch, CBI, M&AMI, is a managing and founding partner of Agency Brokerage Consultants, a national M&A firm serving the insurance brokerage industry. He leads the firm's valuation and due diligence services, assisting clients in over 400 engagements. Additionally, he has assisted in the completion of nearly 100 M&A transactions, acting as the primary advisor in more than half.

Mr. Mensch is a regular author of articles pertaining to valuing, building, buying, and selling insurance agencies and brokerages. In 2009 and 2010, Mr. Mensch was ranked in the top five members of the Business Broker's of Florida association, earning the annual "Deal Maker Award". In 2012, he helped a lending partner launch a highly successful webinar series on various educational topics for insurance agency principals and remains their top presenter with topics drawing nearly 400 registered participants at one time. In 2015, he earned the "Chairman's Circle Award" and "Deal Maker Award" from the International Business Brokers' Association for being a top member. To date, he has facilitated hundreds of negotiations for both buyer and seller clients, working with independent agency owners, private equity-backed firms and publicly-traded companies.

Mr. Mensch is a Certified Business Intermediary (CBI) and a certified Merger and Acquisition Master Intermediary (M&AMI), being one of the youngest M&A professionals in the nation to earn the M&AMI designation at the time. He studied chemical engineering in college and graduated with a bachelor of science degree from Florida Tech and a master of science degree from Virginia Tech, continuing through becoming a PhD candidate. He currently holds real estate and insurance licenses in the state of Florida.

What would you consider to be the most important current issue facing the financial consulting profession?
Meeting the demand for services. In addition to the pending exit of baby boomers from the U.S. economy, we are in the midst of a robust M&A cycle driven, in part, by an influx of capital from lenders and private equity, and the expectation of a new tax plan from the Trump administration that will include lower tax rates.

What would you consider to be the major growth areas in the financial consulting profession?
As most everyone is aware, we are entering the retirement wave of baby boomers, who comprise a large percentage of business owners in the U.S. As such, the demand for exit planning, M&A, and tax consulting services should grow steadily over the next decade.

Paul Ouweneel, Milwaukee, WI

Paul Ouweneel specializes in the valuation of businesses and intangible assets as well as sale and purchase transaction support for companies in a variety of industries. He has become an expert in equity bank valuations, equity manufacturing valuations, and purchase price allocation services. Also, as part of a CPA firm, Mr. Ouweneel has had an integral part in integrating the valuation team of those firms we merge with into Wipfli. Mr. Ouweneel is active in mentoring less experienced staff and is the lead in the continuous modification and improvement of our valuation excel model. He has automated this process in an effort to continuously improve efficiency.

Mr. Ouweneel has a can do attitude and is willing to go the extra mile for our clients. A board member of Milwaukee's Habitat for Humanity program, Mr. Ouweneel shows that it is also about giving back to his community.

Rick Shneyder, MBA, Milwaukee, WI

Rick Shneyder he has been instrumental in getting U.S. Bank and Bank of the West to see the value of valuation reports in creating financing packages for doctors and dentists across the country. It is no coincidence that the lending in this sector has greatly increased as banks started to understand the concepts of healthcare valuations; we have Mr. Shneyder to thank for that. Mr. Shneyder was the #1 banker (in terms of volume) for U.S. Bank in the entire country for six consecutive years and recently joined Bank of the West to head up their practice financing efforts.

Mr. Shneyder is a frequent contributor to Dental Town and has appeared on Howard Farran's highly regarded podcast to discuss practice valuation.

What would you consider to be the most important current issue facing the financial consulting profession?
Government regulation is the biggest issue. Some of it is justified but there are a lot of add-ons which are affecting how we can consult, the services we offer, and more. Eventually, the customer is affected.

What would you consider to be the major growth areas in the financial consulting profession?
The first is that clients want their consultant to fully understand their industry and not only their goals; they want to work with specialists. The second is that you do not have to be down the street from their physical location. Skype, e-mail, text, and conference calls are creating efficiencies and building trust. People value experts regardless of their location.

Robert Joyce, Milwaukee, WI

Rob Joyce is a founding partner at Bull Moose Financial. He has been instrumental in growing their valuation practice through mentorship and advisory of local entrepreneurs and small businesses. He also assists in business plan development, financial statement analysis, and cash flow planning for clients throughout the U.S. Bull Moose Financial is one of only a few firms in the country relied upon by lenders to assess a dental practice's value and make appropriate financing decisions.

Mr. Joyce served as mentor in the NFL's Business Management and Entrepreneurial Program and he serves on the advisory board for Youth Impact Program. He has been published in Dr. BiCuspid and has been a featured speaker for Patterson Dental discussing business valuation and preservation of wealth.

Mr. Joyce is a graduate of the University of Notre Dame and has a MBA from Indiana University where he had the opportunity to study international business in Brazil. He also has a master degree in agricultural economics from Purdue University. His varied business experience has allowed for the expansion of Bull Moose Financial's services to business sectors beyond dental.

What would you consider to be the most important current issue facing the financial consulting profession?
The Trump administration has provided some shake-up to the domestic and global financial world—whether it is for better or worse is not for us to argue. However, the difficulty for financial consultants is determining which portion(s) of the administration's agenda and goals will actually come to fruition. This is especially true on tax matters. Our clients rely on us to provide sound business planning and to give them a view of their financial health and future. We can be a lot more accurate when the government provides clear, definitive goals for the economy—instead of simply producing sound bites and tweets to gain global attention.

What would you consider to be the major growth areas in the financial consulting profession?
Technology will continue to free up the financial consultant from monotonous tasks and enable them to provide more timely, meaningful advice to clients. We think this will weed out the mediocre advisors/consultants and emphasize the value of experience and personal relationships. It will not be enough to simply generate financial statements and file tax returns. Rather, you will need to be able to interpret the numbers in regards to the client's industry and make recommendations based upon personal financial positions.

Just 10 years ago, the monotony of data entry, record keeping, and compilation meant that a dedicated staff and significant resources were devoted to these tasks and higher-level partners had to spend time simply on the management of the company. In the next 10 years, advances in fintech will allow financial consultants to narrow their focus, be more timely with responses and analysis, and provide a higher level of service to clients. The strong will not only survive, but likely thrive.

Scott D. Sorrell, Raleigh, NC

Scott D. Sorrell has been with Capitol Financial Solutions for 12 years. He has impacted the lives of hundreds of clients with his holistic financial planning process within that time frame. Mr. Sorrell has qualified for the Million Dollar Round Table 11 consecutive years, which statistically includes the top five percent of financial advisors in the world. In the last five years, Mr. Sorrell has achieved a higher level within the Million Dollar Round Table referred to as Court of the Table which is top two percent of advisors worldwide. To learn more about the prestigious Million Dollar Round Table please visit www.mdrt.org.

Mr. Sorrell has also qualified within Signator Investors, which is the 10th largest broker dealer in the U.S., as an Achieving Client Excellence (ACE) qualifier 11 years in a row including four top 50 Platinum qualifications.

Mr. Sorrell has flourished as a lead advisor which has lead him to a mentoring and training role for years throughout the capitol's locations in Raleigh, Richmond, Roanoke, and Charlotte, and other financial services firms throughout the country.

He is actively involved with the community, including: Rotary (Paul Harris Fellow), Crossnore School, Food Bank of Central and Eastern North Carolina, Saving Grace Animals for Adoption, Boys and Girls Club, Scott D. Sorrell Scholarship at his local high school in High Point NC, Salvation Army, Pencils of Promise, and the UNC's Ram's Club.

Mr. Sorrell is consistently asked to write articles and has been published.

Scott DeMarco, Albany, NY

Scott DeMarco is a proven leader with an entrepreneurial spirit and is one of the brightest minds and young professionals in the Capital District. In 2013, at the age of 31, Mr. DeMarco was named a Partner with BST's Valuation, Forensic and Litigation Support Group—making him one of the youngest partners in the history of the firm. At BST, Mr. DeMarco is a recognized expert in hedge fund and private equity valuations for financial consulting and litigation purposes. He has worked with some of the biggest names on Wall Street and throughout New York State in the management of various valuation engagements, including: the valuation of privately held business enterprises, professional and medical practices, intellectual property, professional licenses, advanced academic degrees, economic damage analysis, and real estate holding companies.

Mr. DeMarco has testified in New York State Supreme Court as an expert witness on the topic of business valuation, and regularly participates as a financial neutral in collaborative law matters. He is a published author of many articles related to valuation, and has conducted numerous seminars and presentations for the legal community. As an example, he authored an article on the use of Monte Carlo Simulations in the single period capitalization method, which was published in the Business Valuation Update (published by BVR), and recently lectured for NACVA on trial preparation. In 2017, Mr. DeMarco launched a new valuation firm, Equitable Value LLC, which will build upon his success in valuing various types of businesses for litigation, M&A, and planning purposes.

What would you consider to be the most important current issue facing the financial consulting profession?
The financial consulting professions needs to find ways to leverage technology to do more work in an efficient manner. Artificial intelligence and software in general will shape the future of financial consulting, so consultants need to identify the valuable knowledge and experience they can provide to clients, and let the algorithms do the rest.

What would you consider to be the major growth areas in the financial consulting profession?
Growth will continue to be in litigation, but also in assisting business owners with growing business value and transitioning businesses to the next generation, employees, or an acquirer.

Sok Heang Cheng, Asheville, NC

Sok Heang Cheng is a shareholder at Johnson Price Sprinkle PA (JPS) and provides forensic and valuation services to a variety of clients. Born in Cambodia, she came to North Carolina with her family at a young age.

Ms. Cheng holds a bachelor in accounting from the University of North Carolina-Asheville and a master of accountancy from Western Carolina University. She began at JPS in 1999 as a student intern, providing broad services in audit, tax, and valuation services. Over time her focus narrowed to valuation, litigation, and tax services, and, in 2015, she became a shareholder. Ms. Cheng is a Certified Public Accountant, Certified Valuation Analyst, Certified in Financial Forensics, and Accredited in Business Valuation.

Under Ms. Cheng's leadership, JPS expanded its depth of valuation client services, allowing a greater reach internally and regionally. Community and professional involvement are very important to Ms. Cheng. She was one of 15 young CPAs in North Carolina accepted to the Young CPA Cabinet of the North Carolina Association of Certified Public Accountants (NCACPA) and has served in officer positions with the Asheville Chapter of the NCACPA. She serves on the advisory board for both Western Carolina University's Department of Accounting, Finance, Information Systems and Economics, and UNC-A Department of Management and Accounting, where she is also a guest speaker.

A champion of wellness, Ms. Cheng has led multiple wellness initiatives at JPS, and serves as an advisory board member to the Downtown Asheville YMCA. She has also volunteered at Manna Food Bank, Habitat for Humanity, and Homeward Bound. Due to her outstanding achievements, Ms. Cheng was honored as one of Asheville's 40 Under Forty in 2014.

What would you consider to be the most important current issue facing the financial consulting profession?
The most current important issue facing the financial consulting profession is how IRS regulations will affect gift and estate valuations.

What would you consider to be the major growth areas in the financial consulting profession?
Major growth areas continue to be valuations for financial reporting purposes and family law/litigation valuations.

Stephanie Klingzell Carlin, Salina, KS

Since Stephanie Carlin began her valuation career in 1999, she has been dedicated to expanding her knowledge of the profession and sharing it with others. She has mentored several young analysts, most of whom were new to valuation and encouraged two young women to obtain valuation designations. When she was 29 years old, Ms. Carlin purchased the valuation department from a regional CPA firm and formed KC&G.

Every year for more than a decade, Ms. Carlin has served on the KS Society of CPAs Business Valuation and Litigation Support Steering Committee, bringing nationally known speakers, authors, and practitioners to the midwest for this annual one-day conference. She has given numerous presentations to local bar associations, CPA groups, and other advisor groups (such as financial planners, bankers, and insurance agents) teaching them the importance of understanding their client's business value to aid in providing a more pro-active approach to planning. She has presented at the national Business Enterprise Institute Conference and has hosted several valuation workshops for business owners on business valuation and exit planning.

Over her almost twenty years in the profession, Ms. Carlin has tirelessly educated thousands of business owners and their advisors in the midwest about business valuation. She is passionate about teaching closely held business owners and their employees about what drives business value in an effort to accomplish owner objectives.

Stephanie Hyland, Iselin, NJ

Stephanie Hyland is a director in the Forensic, Litigation, and Valuation Services Group of EisnerAmper, LLC. With more than 16 years of experience, Ms. Hyland serves as an expert witness in litigated matters and a trusted financial advisor during settlement negotiations. She prides herself on easing client anxieties throughout the litigation process with knowledge, devotion to quality, and creativity. Her background includes: valuing businesses in a variety of industries and performing various financial analyses in the context of matrimonial disputes, commercial litigation, shareholder disputes, estate and trust litigation, and forensic investigations. Whether it is a business valuation or a forensic analysis, Ms. Hyland provides highly supportable opinions and findings. Over the course of her career, she has developed an outstanding reputation in the financial and legal community.

When asked to describe why Ms. Hyland deserves to be recognized as one of NACVA's 40 Under Forty, those she worked with offered the following:

"[Ms. Hyland] displays a superior knowledge of her trade; is thorough and detailed in her work product; and displays respect for everyone with whom she is working." ~Megan Murray, Esq.

"Ms. Hyland is an extremely skilled valuation expert who has gained the respect of not only her peers, but the many attorneys and clients with whom she works. Her knowledge and experience across all types of industries has been proven to be an invaluable resource in her role as a mentor to new staff entering the field." ~Michael Yanoff, CPA

"[Ms. Hyland] is very smart and an out-of-the-box thinker. She gets along well with attorneys and clients. I have no problem retaining her to work on a sophisticated, high asset case." ~Edward Snyder, Esq.

Ms. Hyland has created and presented continuing legal education programs on behalf of the New Jersey Conference of Family Presiding Judges, the New York City Bar Association, the New Jersey Bar Association's Family Law Section and the New Jersey Association of Professional Mediators. She graduated cum laude with a bachelor in business administration-finance from The College of New Jersey. Ms. Hyland is an Accredited Senior Appraiser (ASA) in the field of business valuation, a Certified Fraud Examiner (CFE), and trained in the collaborative law process.

Theodore Brown, Atlanta, GA

Theodore Brown, born in 1987, has exemplified great expertise and has been an asset to his firm as well as the community. In 2015, he was named the "New Business Marketer of the Year" at his firm. His knowledge is wide ranging, with experience in bankruptcy, fraud, complex litigation, insurance loss calculations, and business valuations. He has earned several credentials, including both the CVA and MAFF from NACVA. Mr. Brown has been an instructor both internally at his firm, as well as externally for clients and other organizations. He has taught internal continuing education on fraud and financial forensics as well as leading instruction on business income and wage loss accounting to insurance adjusters. In addition to his teaching, he has been the named expert and submitted reports in Federal Rule 26 cases. Mr. Brown is an active member with NACVA, the AICPA, Georgia Society of CPAs, ACFE, and the Georgia Association of Certified Fraud Examiners. He is the Task Force Chair for the 2017 Georgia Society of CPA's Fraud and Forensic Conference. In addition to his work with the GSCPA, Mr. Brown regularly assists the Atlanta Volunteer Lawyer's Foundation in representing their clients in pro bono work. This representation has included attending court hearings on behalf of clients in order to resolve and settle their claims. In summary, Mr. Brown is a rising star in our industry and deserves recognition as being one of the faces for the future of the profession.

What would you consider to be the most important current issue facing the financial consulting profession?
I believe the most important current issue in the financial consulting profession is succession planning. Our business model is unique to the accounting profession, in that, the relationships with the clients are relationship driven and transactional in nature. Without proper succession planning, it will be more challenging for the next generation to continue to meet their own expectations for the size and success of their future practices.

What would you consider to be the major growth areas in the financial consulting profession?
I believe the major growth areas for the financial consulting profession are the use of big data and valuation of pre-revenue enterprises. While big data is being used in many aspects of consulting by many people, the wide training, usage, and acceptance of big data is likely on the horizon. Additionally, as innovation continues and new, primarily tech based companies emerge, understanding how to value pre-revenue enterprises will be key for successful investing activities, as well as the success of the ultimate enterprise itself.

Timothy Kinney, Chicago, IL

Timothy Kinney is a managing director with Navigant. As founding partner of McKinnis Consulting Services, which was acquired by Navigant in 2016, Mr. Kinney is responsible for strategic direction of the practice, engagement leadership, and human capital management. He has experience in business development, client relationship management, and engagement delivery.

Over the course of his career, Mr. Kinney has led numerous large scale revenue cycle engagements at academic medical centers, multi-facility health systems, community hospitals, and physician groups. He is a recognized revenue cycle expert and has deep EHR knowledge. He has assisted clients with system selection, pre-live risk mitigation, and post-live system optimization. Mr. Kinney also served as interim vice president revenue cycle for a multi-hospital health system in California.

Will Hamilton, Atlanta, GA

Will Hamilton has made major contributions to the healthcare valuation industry. He is an experienced healthcare consultant, having worked with a wide range of healthcare providers, ACOs, health plans, healthcare information technology companies, and pharmacies. He has focused on valuation and financial advisory services for mergers and acquisitions. He is the go-to person for many complex business valuations and is a thought leader, particularly as it relates to applying valuation theory to unconventional or unique entities. He has authored a variety of pieces—several can be found on LinkedIn.

One of his attributes is the ability to identify key market data elements to be used when applying the Market Approach. Unlike most industries, many transactions in healthcare are between private entities or closely held interests, so finding appropriate market comparables is difficult. Mr. Hamilton is relentless in his pursuit of market data and has advanced our ability to apply the Market Approach in many instances. There is no valuation that is too challenging for him.

Mr. Hamilton is a Certified Valuation Analyst (CVA) of the National Association of Certified Valuators and Analysts. He has published several articles in Becker's and Business Valuation Resources, and presented at meetings and webinars for national and regional organizations.

Mr. Hamilton holds an MBA from the University of Arizona and a BA from Washington & Lee University.

What would you consider to be the most important current issue facing the financial consulting profession?
Within the healthcare industry, specifically where I focus, increasingly complex and often conflicting regulatory considerations (Affordable Care Act/American Health Care Act, Anti-Kickback, Stark, antitrust) will make financial consulting within the healthcare industry particularly challenging over the next several years.

What would you consider to be the major growth areas in the financial consulting profession?
Within the healthcare industry, rapid consolidation is leading to bigger transactions, which presents the opportunity to provide a wider range of transaction-related financial consulting services.
National Association of Certified Valuators and Analysts
www.NACVA.com
Consultants' Training Institute
www.theCTI.com
5217 South State Street ▪ Suite 400 ▪ Salt Lake City, Utah 84107 ▪ Tel: (801) 486-0600 ▪ Fax (801) 486-7500