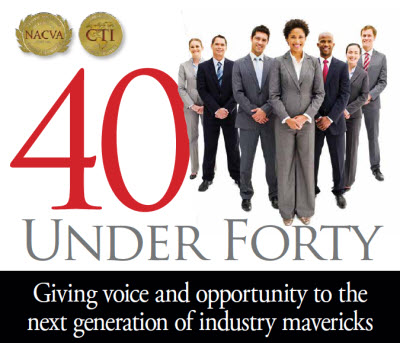 2014 Honorees
NACVA and the CTI are founded on excellence, superior quality, and the spirit of pioneering. We have a rich history of partnering with visionary leaders across all spectrums of the accounting and financial consulting professions regardless of affiliation with NACVA and the CTI. Simply put, we want the best of the best among our group of subject matter experts and leaders.

We are thrilled to recognize this inaugural list of professionals for their accomplishments to the profession and their communities and for their contributions yet to come.

Throughout the rest of 2014 and into 2015, you will get to know these rising stars through a series of press releases, profiles in The Value Examiner®, QuickRead Buzz Blog, NACVA's Association News, and through other communications.


Peter H. Agrapides

Peter H. Agrapides, MBA, CVA, is with the Salt Lake City, Utah, and Las Vegas, Nevada, offices of Western Valuation Advisors. Mr. Agrapides' practice focuses primarily on valuations for gift and estate tax reporting. Mr. Agrapides has experience valuing companies in a diverse array of industries. These engagements have ranged from small, family owned businesses to companies over $1 billion. Mr. Agrapides has extensive knowledge of judicial case law as it relates to the valuation industry. He produces a regular column for The Value Examiner®, Court Corner, which is a national professional development journal published bi-monthly by the National Association of Certified Valuators and Analysts (NACVA). His column highlights case law as it relates to the following topics: expert admissibility, valuation and discounting theory, damages calculations, and trends within the marital dissolution segment. Mr. Agrapides also produces a column, which appears in NACVA's QuickRead and KeyValueData's Case Law Monitor. Mr. Agrapides was elected to NACVA's Valuation Credentialing Board in 2010 and is a member of the Current Update in Valuations instructor team. Mr. Agrapides received his BA in Economics from the University of Utah and earned his masters in business administration from the Gore School of Business at Westminster College in Salt Lake City, Utah. He is also a Certified Valuation Analyst (CVA) with NACVA.

Michael Bark

With over 18 years of experience, Michael Bark, CPA, MST, CVA, is one of the leading valuation experts in the dental industry. His specialty is helping people both buy and sell their business. He's had articles published in publications like the Milwaukee Journal-Sentinal and BizTimes.

Mr. Bark is a member of the Institute of Dental CPAs, The Wisconsin Institute of Certified Public Accountants, NACVA, and is a moderator on the Dental Town website.

Mr. Bark is a member of the Milwaukee County Zoo Associate Board. He and his wife, Rebecca, have three sons. In his free time, he enjoys cycling and going to heavy metal concerts.

Ryan Berry

Ryan Berry, CPA/ABV, CVA, is a principal with The McLean Valuation Services Group, LLC, The McLean Group's business valuation practice, which performs business valuations for public and private companies for transaction, financial reporting, equity incentive plans, tax and estate planning purposes.

Prior to joining The McLean Group, Mr. Berry was a financial analyst at Booz Allen Hamilton and a consultant with Beers & Cutlers' government contracting practice.

Mr. Berry holds a BA in economics from the University of Virginia and an MBA from the Johns Hopkins Carey Business School. Mr. Berry is CPA, accredited in business valuation, and has co-authored articles on various business valuation topics.

Curtis H. Bernstein

Curtis H. Bernstein, CPA/ABV, CHFP, CVA, ASA, is a managing director of Valuation and Transaction Services for Altegra Health, Inc. Mr. Bernstein has extensive experience working closely with hospital systems, physician groups, ambulatory surgery centers (ASCs), and other healthcare providers. Mr. Bernstein currently sits on the advisory board for the National Association of Valuators and Analysts' (NACVA) Healthcare Practice Group and is an expert for the Healthcare Financial Management Association forums.

Prior to joining Altegra, Mr. Bernstein was the assistant controller at a large general acute care hospital. In this role he managed the accounting department's daily operations. Mr. Bernstein also served on the finance committee of a rural acute care hospital assisting in the hospital's financial decision on various matters including the development of a new campus. Mr. Bernstein has also been responsible for overseeing the financial operations of a publicly traded pathology company's southeastern division as a senior accountant. As an adjunct professor of financial analysis at Florida Atlantic University in Boca Raton, Mr. Bernstein taught undergraduate courses in accounting and finance theory.

Leslie Bilancia

Leslie Bilancia, CPA/ABV, CVA, began her career in accounting with Arthur Andersen's New Orleans office in 2001 as a staff accountant specializing in tax consulting and compliance. In late 2002, she moved back to her hometown of Hattiesburg, Mississippi, and found a niche working for a local firm focusing on business valuation and litigation support (BVLS). Ms. Bilancia has practiced as a Certified Public Accountant since 2005 and was accredited in Business Valuation by the American Institute of Certified Public Accountants and earned the designation of Certified Valuation Analyst through the National Association of Certified Valuators and Analysts in 2006.

Ms. Bilancia has valued various types of businesses ranging from timber and real estate holding companies to ambulatory surgery centers for a variety of purposes, including litigation, estate tax planning, buy/sell agreements, marital dissolution, and ESOPs. Additionally, she has provided assistance with litigation support engagements, which include wrongful death damages, personal injury damages, punitive damages, lost profits damages, and forensic examinations. Leslie complements her BVLS work at Nicholson & Company with estate and trust taxation services. Leslie and her husband, Alex, renovate homes in Hattiesburg's historic district, a true labor of love.

John Bly

John Bly, CPA, CVA, CM&AA, is the founding partner of LB&A, Certified Public Accountants, PLLC, headquartered in the Charlotte, North Carolina area. Mr. Bly's entrepreneurial guidance as managing partner has propelled the firm from $0 to more than $4 million in nine years, through a series of eight acquisitions and two mergers. He plays an integral role both locally and globally in the Entrepreneurs' Organization and has received prestigious awards, including the 2014 NACVA 40 Under Forty and the 2013 M&A National Advisor 40 Under 40. Mr. Bly spends his time providing consulting services for 20-30 M&A transactions a year, on both the buying and selling side. He is a dynamic international business consulting speaker regarded as an expert amongst his peers and is the author of Cracking the Code: An Entrepreneur's Guide to Growing Your Business Through Mergers and Acquisitions for Pennies on the Dollar.

Karen Lascelle Boulay

As the Tax and Valuation Manager at Melanson Heath & Co., PC, in Nashua, NH, Karen Lascelle Boulay, CPA, CVA, MBA, has over 15 years of experience in public accounting including business valuation services, taxation, attest services, business development, management and consulting. Ms. Boulay is a Certified Public Accountant and Certified Valuation Analyst.

Ms. Boulay serves on the NACVA Valuation Credentialing Board, the NACVA MA Chapter Programming Committee, is treasurer of HGSL, assistant treasurer of the Rotary Club of Lowell, serves on the Penacook Assisted Living Facility Board, and is an adjunct professor with the graduate programs at University of Phoenix and Southern NH University (SNHU), teaching managerial, forensic, and financial accounting. She holds her masters of business administration from Southern NH University.

Jason Patrick Cables

Jason Patrick Cables, CPA, CFF, CFE, is an associate director at Navigant Consulting. He specializes in preparing and submitting insurance claim measurements for business interruption, property damage, FEMA, fidelity, and product recall /product liability for corporate policyholders. Additionally, Mr. Cables works with companies prior to a loss to analyze business interruption values at risk and to assist with insurance purchasing decisions.  He also prepares lost profits measurements and expert witness testimony for litigation support. Mr. Cables is a licensed CPA in Illinois and Texas, a member of the AICPA, the ACFE, and the Risk and Insurance Management Society. 

Allison Carty

Allison Carty, JD, MBA, provides valuation services to clients with a particular focus on physician compensation and related plan structuring and compliance. In addition to valuation work, Ms. Carty maintains an interest in healthcare regulatory matters pertaining to hospital/physician transactions, including requirements relating to commercial reasonableness. Prior to joining Altegra Health, Ms. Carty worked in healthcare consulting services in which she worked with clients, including law firms, hospitals, and physician practices. Before her work in the healthcare sector, she gained experience as an independent consultant in matters relating to finance, technology, marketing, and economic development.

Ms. Carty completed a double major from the University of Georgia in international business and marketing, earning portions of her international coursework at Universidad de Valencia in Spain and Oxford University in England. Following undergraduate studies, she earned her juris doctor (concentrating in business law) and master of business administration (concentrating in finance and consulting) from the University of Tennessee.

Janae Castell

Janae Castell, CVA, has focused her career in business valuations and has conducted valuations for a variety of industries including healthcare, information services, oil and gas, manufacturing, insurance, and construction. She has been retained as an expert witness for commercial litigation and divorce cases. Ms. Castell is a Senior Correspondent for the Around the Valuation World in 90 Minutes™ publication. She is part of the instruction team for the Consultants' Training Institute's Business Valuation Certification and Training Center and, in turn, part of the advanced team updating its curriculum. Ms. Castell is serving on the NACVA® Valuation Credentialing Board (VCB). The best part of her job is helping businesses create, build, and protect value.

Marta Cecilia Cesar

As an expert valuator in Latin and Central America, Marta Cecilia Cesar, MBA, MSc, CVA, established herself as a top executive in a multinational financial group, directing mergers and acquisitions in ten countries for more than ten years (USA, Mexico, Venezuela, Dominican Republic, Nicaragua, Costa Rica, El Salvador, Guatemala, Panama, and Honduras). Ms. Cesar is a pioneer in the business valuation profession in Central America.

Ms. Cesar has contributed to the financial valuations, negotiations, and mergers and acquisitions of some of the most important companies in Central America, including oil and gas companies, electricity companies, and universities. She has served as an intermediate between Central American companies looking to be sold and has helped make a bridge between those companies and investors in Europe, the United States, and Latin America.

Three years ago, she founded her own company, INNOVAFIN, based in Miami, Florida, to help companies and business owners in the Latin American region obtain financial advice. Two of her most active areas are financial valuation and mergers and acquisitions. Ms. Cesar's practice is focused on giving the best advice to the client in an ethical and confidential environment.

John Dimovski

John Dimovski, CVA, CFE, is a co-founder and managing partner of Harmon Partners, a Detroit-area strategic advisory firm serving privately held companies in the middle market.  His areas of expertise include performance improvement, profit maximization, growth strategies, project management, interim management, corporate finance, turnaround, crisis management, accounting systems and internal controls, financial and accounting forensics, business valuation, litigation support, and transactional due diligence.  Mr. Dimovski has worked with national and international clients across a wide variety of industries during his career, ranging from privately held to Fortune 500 companies.

John holds the Certified Valuation Analyst (CVA) designation from NACVA for his expertise in business valuation, and he is a Certified Fraud Examiner. He serves as a board member for industry and non-profit organizations and serves on the Litigation and Business Valuation Task Force of the Michigan Association of Certified Public Accountants (MACPA). John was also recognized by the M&A Advisor as one of the top finance professionals in the country in it's third annual "40 Under 40" Recognition Awards for 2012, and will also be featured in DBusiness Magazine's "30 in Their Thirties" for 2014.

Megan Durst

Megan Durst, CPA, CVA, is a Certified Valuation Analyst and Certified Public Accountant with McLain, Hill, Rugg & Associates, Inc., where she became a third-generation CPA working for the firm that her grandfather founded.

The year 2001 proved to be a busy year with Ms. Durst graduating from Ohio University with a master's of science in accountancy, joining the national office of the certified public accounting firm of Pricewaterhouse Coopers, LLP, in Columbus, Ohio, in the Private Company Services Tax practice, and passing her CPA exam. Megan returned to McLain, Hill, Rugg and Associates in 2004 (she interned at the firm while in college) where she provides valuation and accounting services, individual and tax planning services, as well as return preparation, estate planning, compilation and review services and management advisory and consulting services.

Ms. Durst embraces the firm's commitment to civic service and community involvement. She is a member of the Muskingum County Community Foundation Council, president and past treasurer of the Hills of Ohio Planned Giving Council, a past executive board member of the Ohio Society of Certified Public Accountants, and is a member of the American Institute of Certified Public Accountants. Ms. Durst was also awarded Rotary's Paul Harris Fellow Award in 2011.

Richard Eichmann

Richard Eichmann, CVA, is a managing director within the Forensic and Litigation Consulting practice of FTI Consulting.  He is based in San Francisco and Los Angeles. Mr. Eichmann specializes in economic damages modeling and valuation analysis. Mr. Eichmann is both an economist and valuation analyst with extensive experience in calculating and evaluating damages in matters involving breach of contract, labor, intellectual property, and securities (including 10b-5) litigation cases.  Mr. Eichmann has provided arbitration, deposition, and trial testimony as an expert witness.  He has taught damages modeling, valuation, and statistics, and is a Certified Valuation Analyst. 

Melissa Gragg

Melissa Gragg, CVA, CFE, conducts business valuations for financial reporting, divorce litigation, estate planning as well as mergers and acquisitions with Stone Carlie & Company, a full-service accounting and valuation firm in St. Louis, Missouri. As a Certified Valuation Analyst (CVA) and Certified Fraud Examiner (CFE), she has over 10 years of experience working with companies ranging in size from large, publicly traded firms to small, privately held operations and family limited partnerships (FLPs).

Ms. Gragg also provides litigation support services and expert witness testimony for shareholder disputes, commercial litigation, business interruption claims, personal damage calculations, lost profits, marital dissolution, and personal injury. She has worked on commercial litigation cases, high-profile fraud investigations of several municipalities, traced assets in complicated divorce cases, and submitted Federal Rule 26 reports on several occasions. Ms. Gragg has testified in legal matters involving a valuation in various Circuit Courts throughout Missouri and Illinois as well as in Federal Court. Melissa is a member of National Association of Certified Valuators and Analysts (NACVA) and the Association of Certified Fraud Examiners (ACFE).

Ms. Gragg received her masters in finance from Saint Louis University and bachelor of science in business administration, with a major in management, from Creighton University in Omaha, Nebraska.

John W. Haag

John W. Haag, CPA, CVA, CFF, is a Certified Public Accountant with a background in both private and public accounting. He is a principal at Yeo & Yeo PC's Midland office providing tax, accounting, consulting, valuation, accounting information system support, financial planning, and new business start-up services to his clients. Clients consist of manufacturing, construction, professional service, retail, and not-for-profit organizations. Mr. Haag provides a range of services to assist business owners, from the beginning phases of starting a business to retirement. Mr. Haag's specialties include business valuations, mergers and acquisitions, business taxes and accounting services, accounting information systems, QuickBooks ProAdvisor, and individual taxes.

Renee Howdeshell

Renee Howdeshell, CPA, CFE, is a founding member of Fulcrum Inquiry, an accounting, finance, and economic consulting firm that performs damage analyses for commercial litigation, forensic accountings, royalty and distribution audits, financial investigations, and business valuations. Ms. Howdeshell holds a degree in finance and marketing from the University of Virginia's McIntire School of Commerce and is a Certified Public Accountant (CPA) and a Certified Fraud Examiner (CFE). She has testified as an expert witness in federal court, California state court and arbitration regarding the results of her work.

Andy Lehmkuhl

A true visionary, Andy Lehmkuhl co-founded Edge Advisors with a self-promise to build a company with a unique and outstanding offering. After college at the University of Oshkosh, he worked at developing dental networks in rural populations. Mr. Lehmkuhl then gained eight years experience as the director of professional relations in Wisconsin's largest dental group. It was here that Mr. Lehmkuhl began to see his vision for a company that could cultivate transactions with a fresh and personable philosophy. In 2009, he started Edge Dental Recruiting and Consulting.  In May of 2012, he launched Edge Advisors with Mike Bark, CPA, CVA, MST.

T.J. Liles-Tims

Trevor "T. J." Liles-Tims, MBA, CVA, CFE, ACFE, is president of LilesTims, Inc. (formerly Capital Wealth Consulting), a certified business valuation and forensics firm. His expertise lies in financial management, financial analysis, investment analysis, business valuations, and business litigation. Mr. Liles-Tims received a BBA and an MBA in finance from the University of Central Oklahoma, where his field of graduate study was financial management and investment analysis focusing on valuation models and portfolio management. Additionally, Mr. Liles-Tims has earned the professional designations of Certified Valuation Analyst (CVA) through the National Association of Certified Valuators and Analysts (NACVA) and the Certified Fraud Examiner (CFE) through the Association of Certified Fraud Examiners (ACFE).

Mr. Liles-Tims has provided consulting and financial management services for a variety of business industries. These services have included business valuations, corporate restructuring, and forensic accounting. Additionally, Mr. Liles-Tims has testified as an expert witness in securities arbitrations and has been retained as a consulting and testifying expert in marital dissolutions, breach of contract, and business valuation cases.

Amy Mings

Amy Mings, CVA, is a senior advisor of advisory services for Harding, Shymanski & Company, PSC, Certified Public Accountants and Consultants. She is a graduate of the University of Southern Indiana with a bachelor of science in accounting and professional services.

Ms. Mings has completed business valuations for a variety of purposes, including purchase price allocations, goodwill impairment testing, mergers and acquisitions, estate planning, gift taxes, and Small Business Administration (SBA) financing.

Ms. Mings is a member of the American Institute of Certified Public Accountants, Indiana CPA Society, National Association of Certified Valuators and Analysts, Institute of Management Accountants, Institute of Internal Auditors, and Rotaract.

Kenny Pierce

Kenny Pierce, MBA, CVA, MAFF, serves as an expert in family law and civil litigation matters. Mr. Pierce regularly values closely-held and professional service business, calculates economic damages, and performs forensic accountings. Regularly hired by attorneys and individuals, Mr. Pierce utilizes his accounting and analytical skills to communicate financial information clearly and concisely in a courtroom setting. Mr. Pierce is also committed to facilitating the mediation and collaborative law process by remaining neutral and empowering parties with objective analysis to help them make decisions together.

Rebecca Robinson

Rebecca Robinson has been an accomplished practice broker since 2004 and currently operates the TPSG Sea Island, Georgia, office. She possesses a diverse skill set which encompasses all the complexities of the brokerage business and is a licensed broker in eleven states.

Ms. Robinson has acted as liaison for numerous transactions via valuation analysis and mergers and acquisitions. She personally identifies key issues and works diligently to benefit each client through her understanding of the complex process of buying and selling a business.

As the reigning Ms. Georgia United States 2014, board director for Heather House, and member of Communities in Schools & Focus Graduation, Ms. Robinson is active in her community and is always eager to give back. She loves living on St. Simons Island and enjoys traveling abroad.

Alina Rivera-Tejada

Alina Rivera-Tejada, CPA, MBA, MAFF, CFE, CVA, is a business advisory senior manager at BDO Puerto Rico, with over 13 years of experience working as an audit and accounting professional. She has managed a wide range of engagements assisting clients with different types of consulting engagements including valuation engagements for mergers & acquisitions, tax compliance, litigation support, financial reporting, general corporate planning, and other special projects.  She has also led investigations of alleged fraud schemes in private and governmental entities. Ms. Rivera-Tejada has been instrumental to the firm's growth. She is considered a true expert by her peers and in the industry. She has taught undergraduate accounting courses in a local private university and enjoys leading a youth program in her community.

Sean Saari

Sean Saari, CPA, ABV, CVA, MBA, is a partner in Skoda Minotti's Valuation & Litigation Advisory Services and Accounting and Auditing Groups with a practice concentrated in the areas of business valuations, litigation advisory services, financial reporting, complex damages analysis and modeling, strategic planning, succession and estate planning, mergers and acquisitions, solvency and fairness opinions, and other consulting services.

Mr. Saari earned his masters of business administration (with honors) from Case Western Reserve University and his bachelors of business administration (with honors) from the University of Notre Dame. He is a Certified Public Accountant (CPA), Certified Valuation Analyst (CVA), and is Accredited in Business Valuation (ABV) by the AICPA.

Megan Salehli

Megan Salehli, ASA, CFE, CVA, specializes in valuation and forensics and provides consulting services in a variety of matters requiring the investigation and evaluation of financial and economic data and determination of value.  She has managed a variety of assignments requiring the quantification of economic damages in circumstances including class actions, shareholder suppression actions, business destruction and interruption claims, wrongful termination, and personal injury matters. 

Ms. Salehli is the current secretary and treasurer of the Philadelphia Chapter of the American Society of Appraisers, on the editorial board for the National Litigation Consultants Review and has presented for various groups, including instructing business valuation courses for the Pennsylvania Institute of Certified Public Accountants.

Brent E. Sloan

Brent Sloan, a senior director with Alvarez & Marsal Valuation Services with more than 14 years of valuation and mergers and acquisition experience, specializes in the valuation of public and closely-held businesses and business segments, intangible assets, intellectual property, and related matters for a variety of purposes.

Mr. Sloan is an Accredited Senior Appraiser (ASA) in business valuation, and holds the Intangible Asset (IA) specialty designation. He is a co-author of Valuation of Contingencies under ASC 805 (SFAS 141R), ASA BV 302 Special Topics in the Valuation of Intangible Assets course; a contributing author to Financial Valuation: Applications and Models; and a frequent speaker with the AICPA, NACVA and ASA.

Rebekah Smith

Rebekah Smith, CPA, CVA, MAFF, CFF, MAFF, is a director and member of GBQ and specializes in economic damages, business valuation, and forensic accounting.  She is the past-chair and past member of NACVA's Executive Advisory Board (EAB) and a past-chair and past member of NACVA's Litigation and Forensic Board (LFB).  Ms. Smith has served on NACVA's Course Review Committee, Standards Committee, and Annual Conference Committee.   She regularly teaches on forensic accounting and economic damages and co-authored a chapter in the Comprehensive Guide to Lost Profits. She has testified in federal and state court many times as well as serving as a court appointed expert.

Scott D. Snider

Scott Snider is vice president of the Exit Planning Institute and a partner at Snider Premier Growth, Inc., a private family office founded by him and his father. As VP at EPI, he is responsible for overseeing EPI's operations and chapter development. EPI grew at a 30% pace in 2013 and is expected to grow by nearly 70% in 2014. Mr. Snider is a nationally recognized young entrepreneur. He started his first business at the age of 17, which he successfully sold in 2010. He has been featured nationally on ABC News Now and is a recipient of the Northeast Ohio 25 Under 35 Movers and Shakers Award.

Courtney Sparks-White

Courtney Sparks-White, JD, CVA, ASA, LLM, serves as the director of business valuation/litigation support at Clarus Partners. She works with business owners and attorneys when there is a need for valuing a closely-held business, calculating economic damages, or taking the stress out of complex financial matters.

Ms. Sparks-White has valued companies in a wide array of industries and has worked with small, sole proprietorships to large, national corporations. She provides expert and consulting services regarding shareholder disputes, contract disputes, business economic damages (business interruption claims/lost profits claims), personal economic damages (wrongful termination, discrimination, etc.), and financial aspects of family law matters.

When hired as a component of a divorce litigation team, as the financial expert, she can help uncover unreported income and assets, value the closely-held business(es), prove claims of separate property, provide guidance on tax consequences for the divorcing parties, and testify in court.

Chad L. Staller

Chad L. Staller, JD, MBA, MAC, CVA, is president of the Center for Forensic Economic Studies. He has extensive experience working with both plaintiff and defense counsel in a wide variety of civil matters, quantifying loss sustained by many types of plaintiffs, including union members, state and federal employees, business owners, and injured children.  He regularly analyzes claims brought in employment-discrimination matters, quantifying back-pay and front-pay damages and lost benefits.  Mr. Staller frequently consults on commercial matters, analyzing lost-profit and business-interruption claims. He has testified in jury trials, bench trials, and arbitrations in state and federal courts.

He serves on the faculty of Temple University's Beasley School of Law LL.M. in Trial Advocacy program and lectures regularly at Villanova University School of Law and Drexel's Earle Mack School of Law.  Mr. Staller is a Certified Trial Advocacy instructor through the National Institute of Trial Advocacy.  He frequently presents seminars and speaks on forensic economic topics at law firms, accounting continuing education seminars, and before professional organizations. Mr. Staller received his masters in business administration from the Fox School of Business and Management at Temple University in Philadelphia, Pennsylvania and his master of accountancy from Villanova University. He is certified as a Certified Valuation Analyst by the National Association of Certified Valuators and Analysts.

Matt Stelzman

Matt Stelzman, MBA, CVA, MAFF, has been providing forensics, litigation, and business valuation services as well as expert witness testimony for the past 12 years. In addition to his career as a valuation expert, he also serves as a professor of finance at two local colleges. Believing that education is the first step to success, he also serves on NACVA's Litigation Forensics Board, helping ensure that future litigation support professionals obtain what is needed to reach their career goals. Mr. Stelzman maintains a Master Analyst in Financial Forensics (MAFF) certification as well as a Certified Valuation Analyst (CVA) certification. In addition, he is a candidate member of the American Society of Appraisers.

Robert M. Stutz II

Robert M. Stutz, II, CVA, ASA, CM&AA, entire career has been dedicated to the valuation industry. His valuation experience is across many industries.  He has worked on, reviewed, and signed hundreds of projects for ESOPs, estate/gift tax, financial reporting, corporate matters, and fairness opinions.  The majority of Mr. Stutz's experience is with mid-sized private companies and small-cap public companies.  He has been involved in many small-cap public company opinions and transactions. Currently, Mr. Stutz is the managing director of Western Reserve Valuation Services based in Columbus, OH.

Mr. Stutz has received a number of awards and accolades for his dedication to the valuation industry.  He is a frequent lecturer on numerous valuation topics and is the leading national instructor for NACVA.  Mr. Stutz has trained over 1,000 NACVA members over the last ten years and has received the Instructor of the Year award as well as the coveted Circle of Light award from this organization. He currently serves as Chair of NACVA's Executive Advisory Board (EAB) and previously served on their Valuation Credentialing Board from 2007-2009.  Mr. Stutz continues to instruct new members with NACVA today and is now a nationally recognized instructor on the merger acquisition topic as well.

Neil Thakur

Neil Thakur, CVA, is a vice president in the valuation practice at Teknos.  He has significant valuation experience, completing numerous valuation projects including stock option, intangible asset, and portfolio valuations for financial reporting, fairness opinions, and corporate planning.  Prior to joining Teknos, Mr. Thakur completed valuation and financial reporting work as an associate at Pagemill Partners.  His work experience also includes associate and manager positions with the business valuation and litigation support firms Desmond, Marcello & Amster and FMV Opinions, where he completed valuation projects for corporate planning, loss of goodwill, private equity transactions, and gift and estate tax purposes.  Mr. Thakur's experience also includes a corporate finance role with Grosvenor, an international investment firm, and an analyst position in the technology investment banking group of ABN AMRO.  Mr. Thakur received a BA in economics from Yale University

Maureen H. Thomson

Maureen H. Thomson, in addition to being a Certified Public Accountant (CPA), is a Certified Valuation Analyst (CVA) and a Master Analyst in Financial Forensics (MAFF). Ms. Thomson specializes in business valuation and forensic accounting, has valued over 200 closely held businesses ranging from medical practices to McDonald's franchises to manufacturing companies, and has been retained as an expert witness on numerous cases. In addition, Ms. Thomson works on a regular basis with an international insurance company providing consulting with respect insurance claims. Ms. Thomson is a 2005 graduate of the University of Delaware with a BS in Economics.

Megan Thompson

Megan Thompson, CPA, CVA, CFF, is a graduate of the University of California, San Diego with a B.S. in Psychology. She also attended Santa Clara University where she received a Certificate of Advanced Accounting Proficiency.

Ms. Thompson has extensive experience in litigation support, including the preparation of business valuations, analysis of income available for support, stock option and retirement plan allocations, separate property tracing, Moore/Marsden calculations, and Pereira/Van Camp determinations. She is also a qualified expert witness.

In 2012 she was awarded Young Emerging Professional of the Year from the California Society of Certified Public Accountants.

Ben Towne

Ben Towne, CPA, ABV, as the founding principal of Towne Advisory Services, covers a wide variety of industry and company sizes, providing valuation services for transactions, financial reporting, and tax reporting purposes. He has performed valuations for large real-estate holding entities, small and large technology companies, professional service companies, and main street brick and mortar companies. Mr. Towne specializes in high-tech start-up valuations (IRC 409A/ASC 718) with complex capital structures running the gamut of developmental phases from pre-revenue to pre-IPO. He also has a specialty in valuing the Venture Capital funds that support his native Silicon Valley start-up environment.

Drew Walker

Drew Walker specializes in corporation finance and business valuation. He has evaluated over 300 business entities for a wide variety of purposes including mergers and acquisitions, management and shareholder buyouts, management performance-based compensation, employee stock ownership plans, incentive stock options, federal taxation, strategic planning, damages analyses, and numerous financing related activities.

He has been a leading contributor on eight initial public offerings, over 90 mergers and acquisitions, and over 50 financing arrangements.

Mr. Walker has performed valuations for Fortune 500 companies and for many mid-sized private firms and early stage ventures. Industries served include high technology, food and agriculture, entertainment, financial services, healthcare, wholesale and distribution, manufacturing, medical, biotech and pharmaceutical, professional services, real estate, software, telecommunications, and transportation.

Mr. Walker has been retained by numerous private clients, institutional investors, and major law firms, as well as the Internal Revenue Service, U.S. Department of Justice, and U.S. Securities and Exchange Commission. He has testified as an expert witness for business valuation at deposition and trial, and in a variety of federal, state, and tax court jurisdictions. Over the last decade Mr. Walker has taught corporation finance and business valuation for MBA students at universities, as well as for adult students, CPAs, and other professionals.

He is a published author and has completed his graduate work at University of Maryland, American University, and University of Chicago. He has over 30 certifications, including technology specialties with some of the most complex analytical software programs in the world. His credentials include CPA, CVA, MS Acct, MS Tax, MBA, JD, CISA, CISM, CISSP, CISSP-ISSEP, MCT, PMP. EA. CAP, CSSLP, and over 20 other certifications.

Danny Wall

Danny Wall is an associate professor of finance at the David Eccles School of Business with the University of Utah. He is also serving as the director of two programs housed within the Department of Finance, the Master of Science in Finance program and the Masters of Real Estate Development program.

Mr. Wall has seven years of full-time appraising and consulting experience and a BA in English from the University of Utah and an MS in real estate and construction management from the University of Denver. He is certified to appraise in Utah and Idaho, and has experience appraising in both states. His experience covers a broad range of real estate markets and property types including residential properties, large land development projects, special-use facilities, commercial properties, and recreational/resort properties. He has provided forensic valuation and consulting services in real estate damages cases, eminent domain, bankruptcy, and property tax. He has also given deposition and expert testimony. Mr. Wall's primary focus is complex assignments and impaired property with heavy weighting on forensic consulting and appraising. He has provided appraisal and consulting services to individuals; city, county, and state government; financial institutions; mortgage companies; professional firms; and public and private corporations.

Paul Weisinger

Paul Weisinger, CPA, ABV, CVA, is a partner at Walthall CPAs. As the chair of the business valuations group, he has performed numerous consulting projects and business valuations as well as conducted engagements in corporate, partnership, and individual financial and tax planning.  Paul's knowledge and experience provide closely held business owners with the necessary advice to achieve their business and personal goals.

In addition to performing audits, reviews, and compilations, Mr. Weisinger also performs financial forecasts, projections, and cash flow analyses. He serves a broad range of clients, with a focus in the technology, construction, real estate, and manufacturing industries.

Leah Wietholter

Leah Wietholter, owner of Workman Forensics, is a Certified Fraud Examiner, forensic accountant, and private investigator in Tulsa, Oklahoma.

After working for the Federal Bureau of Investigation and a public accounting firm, she opened Workman Forensics to assist clients in investigating fraud, preventing and detecting fraud, and solving complex financial problems. Clients include organizations ranging from financial institutions and attorneys to medical practices, nonprofits, and other small businesses. She volunteers with community organizations including Junior Achievement of Oklahoma, the Resonance Center for Women, and the Tulsa Police Department. She holds an accounting degree from Oral Roberts University, and an MBA from Oklahoma State University.
National Association of Certified Valuators and Analysts
www.NACVA.com
Consultants' Training Institute
www.theCTI.com
5217 South State Street ▪ Suite 400 ▪ Salt Lake City, Utah 84107 ▪ Tel: (801) 486-0600 ▪ Fax (801) 486-7500